Meet Our Volunteers: Emily
In this week's blog, we have the pleasure to introduce you to Emily, our new Volunteer Manager. Emily has joined WeSwim in 2021, and since the lockdown restrictions eased, she has helped many of our swimmers to get more comfortable in the water.
Swimming: A Lifelong Hobby
Her passion for swimming started in childhood, as her grandparents had a swimming pool which she could always use when she wanted to be in the water. It has quickly become an exercise of choice for her. Her parents were sporty, which encouraged Emily to exercise for both mental and physical health. There is an element of mindfulness in being away from one's phone for a few hours a day.
Recently she has started to swim in open water. Hampstead Heath and the London Fields Lido are two places she enjoyed swimming in when she lived in London. Swimming in the same place regularly means that you get to see the same people all the time. In this way, you meet people that you would have otherwise not. It is that sense of community and friendship that she enjoyed. At the moment, her house in Essex is a five-minute walk from the beach, and Emily has continued to swim regularly.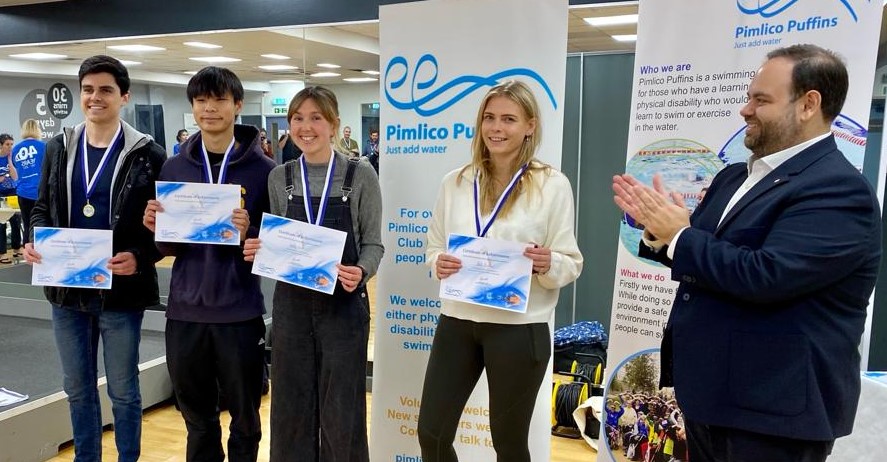 Are You Having Fun?
The beauty of volunteering comes from a drastic change in pace. Helping people find joy in the water is a welcome difference from day-to-day activities. The sense of community and togetherness that she feels when the pool is quite busy makes it highly rewarding. It feels fulfilling to provide support to people who need it to manage their condition and strength. The crucial part is to ensure that one adjusts their style to the different swimmers. Every person is unique, and it is this diversity that matters during every session. She recommends approaching every session with an open mind. For example, one session may involve working on something quite technical with someone looking to improve their technique.
People have come to us for many different reasons and with many different backgrounds, so I hope to help each volunteer get the most out of their time with us as possible – and hopefully tap into the fantastic pool of knowledge and experience they all contribute!

Emily, Volunteer Manager
In each session, she asks herself one question: Are you having fun? Sometimes this is how she finds the intrinsic motivation to exercise. Thus, the answer can vary widely from strenuous training to light exercise. In the same way that her exercise schedule can vary widely, it can be the same for the swimmers.
A Sense of Community
WeSwim combines Emily's passion for swimming and public health. Her work is research-focused, working in the communication of science. After finalising her studies in science, she found that she is passionate about making research accessible to people more widely. In her new role as a volunteering manager, Emily will be responsible for coordinating volunteers and supporting them along the way. She is happy to be taking over this role, as she believes WeSwim is as beneficial for the volunteers as it is for swimmers. She is looking forward to getting to know each of the volunteers and their motivations for joining.