This week, we are talking to one of our volunteers, Magali, who is sharing her experience as a sighted guide.
Magali, Tell Us a Bit about Yourself and Your Swimming Experience.
Hi, I am Magali, I am French but I have been living in London for 5 years. I work in a technology company in Central London – although at the moment I am lucky that I can work from home while my office is closed.
I feel very comfortable in the water as I have practised synchronised swimming for 10 years when I was younger. I have kept swimming for leisure since, mostly to stay fit.
How Did You Learn about WeSwim and Why Did You Get Involved?
I found the organisation via doit.org as I was looking to volunteer. I found it quite different from the other volunteering opportunities because I was able to bring together one of my hobbies – swimming, with a good cause and building social relationships. Unfortunately, I was only able to join the onboarding session at the beginning of 2020 and then we had to cancel all the sessions. I am glad Tash suggested doing 1-1 sessions with Ramin.
Tell Us about Your First Experience with One of Our Swimmers, Ramin, Who Is Visually Impaired.
Tash organised an initial video call so we could discuss the details and then Ramin and I organised our first session at Oasis Centre in Central London. I met Ramin at the station and we walked to the swimming pool. We then met again after the changing rooms and got into the pool.
There weren't many people in the pool – maybe because it was an outdoor one and the weather wasn't so nice (the water was warmer than the air and it even rained at some point, which was a nice experience!). I simply swam before Ramin and he would follow me. We would stop at the end of each lane, before going back in the other direction.
I was actually quite impressed by Ramin's endurance: we almost swam like this for a full hour with just a 5-minute break in the middle. At the end of the session, we did a final lap at a higher speed to work on our sprint abilities. Overall a great experience, and it couldn't have been better.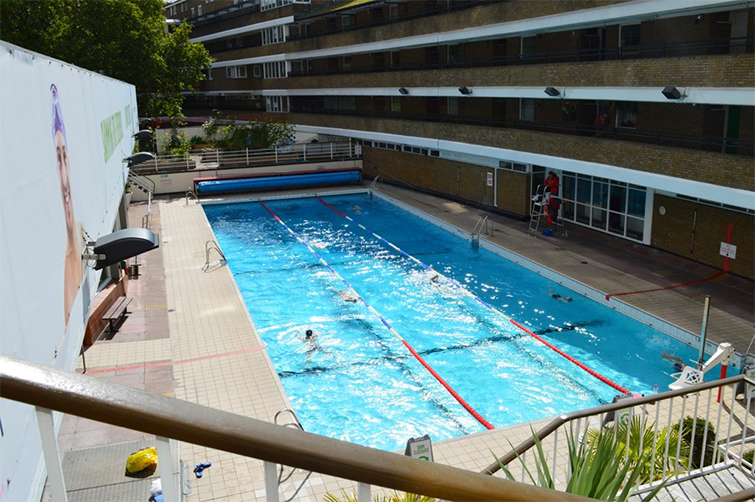 How Exactly Did the Guiding Go?
It was much easier than I thought. Ramin would let me go first and swim behind me. I waited for him at the end of each lane, and then we turned around and I let him know I was going to the other direction. For me, it didn't make much of a difference than when I swim on my own: I was able to get a good exercise session!
Outside of the water, Ramin would grab my arm and we would walk together. And in the streets, with his dog Felix he wouldn't even need my arm so I just gave him warnings about steps or when we crossed a road. It helped that I had watched a few videos beforehand.
Have You Swum Again since the First Session?
Yes, this morning actually. Ramin wanted to try open water swimming at the Serpentine in Hyde Park and had to do a swimming test. He suggested this to me and was very understanding if I didn't want to do it. On my side, I was curious about it and I saw it as a good challenge.
What an experience! I had swum in a lake before when I was young, and I didn't remember what it felt like. The water was super cold initially – one of the club organisers told us it was at 13 degrees celsius! We swam a full length and Ramin successfully passed the 50-meter test. We then did another length before putting on warm clothes and having a coffee break.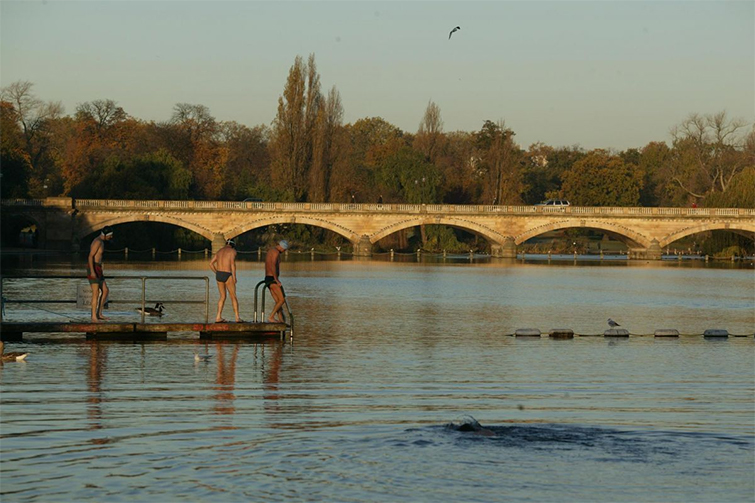 Would You Recommend Swimming in Open Water?
Yes, but only once you are comfortable in a swimming pool. There are also additional factors to take into account.
From my experience, the first thing is the temperature. It affects your body (including your head which gets cold quite quickly) and it can become difficult to breathe. On the second length, it became easier already for both of us so I guess it comes with practice, and maybe doing some breathing exercises as indicated on this previous blog.
The other thing is the visibility. Even when I put my head in the water, I couldn't see anything because the water isn't crystal clear like in a swimming pool. This means it's much more difficult to know where you are going, also because there are no lanes. This made it a bit more difficult for me to guide Ramin too but I am sure we would get used to it after a few sessions.
In all cases, I would recommend trying it out if possible. We certainly were very proud of our open water swimming this morning as it felt as if we had accomplished something!
What Would Be Your Advice for Volunteer Swimmers?
I would say: just go for it! Some things only seem difficult or impossible until they are done. It takes some courage to get started, we may have some fears or be uncertain about what the session will look like but it's worth giving it a go. If you follow this blog, you'll learn techniques that you can reuse and practice with the swimmers to help them get more comfortable in the water.
Will You Carry on Swimming with WeSwim and Why?
Yes, definitely. It is such a rewarding experience – both from a physical point of view and for the social aspect. After just a couple of sessions, Ramin and I are a good team. Ramin is also very thankful for me helping him, so it's a pleasure to do this activity with him.
---
Thank you Magali. Next week, we'll hear from Ramin about his experience getting back to swimming after months. If after reading this blog, you are interested in joining WeSwim as a volunteer, visit the volunteering section of this website.