This week, we share our experience of the swimathon team challenge. Due to the Covid-19 outbreak, the original Swimathon 2020 was adapted as a virtual event: thousands of swimmers heading down to their local pool between July and October to complete their challenge, and to raise money for Cancer Research UK and Marie Curie.
Ramin and I challenged ourselves during one of our weekly sessions and decided that we were going to team up with other WeSwim volunteers, Kornelia and Meena, to reach our goal of 10km. Let's hear from our volunteer Meena about her experience.
Meena's Story
The sun hadn't made up its mind yet as to whether it would make an appearance during our morning swim, but by the time Ramin, Kornelia, Magali and myself had made our way to the swimming pool deck, it was clear that on this brisk autumn morning, the weather would be in our favor.
Ramin's guide dog, Felix, waited patiently in the lobby of the Oasis Leisure Centre in Holborn while the four of us started our swim. Just as we exceeded our fundraising target (raising just above £400 as we entered the pool but now adding up to £585 and you can still donate until 13 November), so too did we exceed our swimming target – reaching 11km collectively, that is 1,000m over our stated goal of 10km.
At the end of about an hour, Kornelia and I had both swum 3km each while Magali and Ramin completed 2.5km respectively.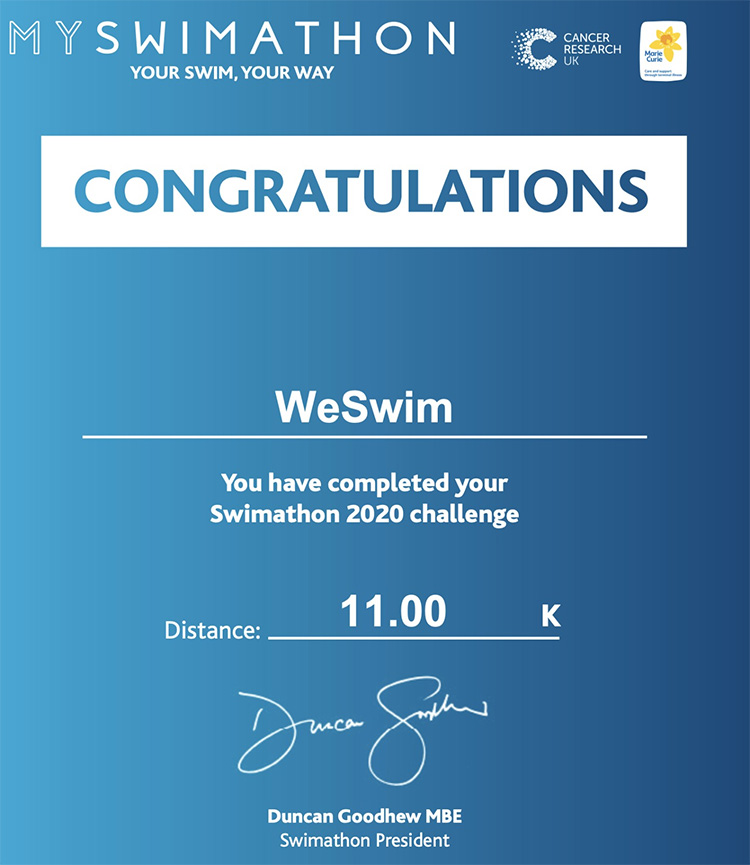 A Word from the Other Swimmers
Magali adds "It felt so good to challenge ourselves! I have been very impressed by Kornelia and Meena who both swam 3km despite not having been in the water for several months.
Beyond the sport objective, it was such a great human experience as we all got together towards a single goal. I would encourage all WeSwim volunteers and participants, and all swimmers beyond the club to take part in a swimathon or similar event in the future!"
Kornelia shared "I'm so happy that I got a chance to challenge myself for a good cause supporting charities and I was lucky to be a part of such an amazing and motivated team. I would really encourage everyone to try and test themselves and I believe this kind of event is perfect for it. Thank you for an amazing swimming journey Magali, Meena and Ramin! I would totally do it again. "
Ramin said "I had such a great time taking part in our Swimathon challenge to support charities and disability swimming. I had no expectations as to how far I would be able to swim but I was amazed about our high spirits in wanting to push our limits even further for a good cause. I was also pleased that Felix was well looked after by the staff at Oasis whilst I was completing the challenge. It was also a pleasure to meet Meena and Kornelia, our fellow team members for the challenge.
I would definitely encourage the volunteers and disabled swimmers to consider setting up a manageable challenge for themselves if they can. The first steps are always the trickiest ones but there is so much pleasure in pushing the boundaries of disability and supporting charities along the way."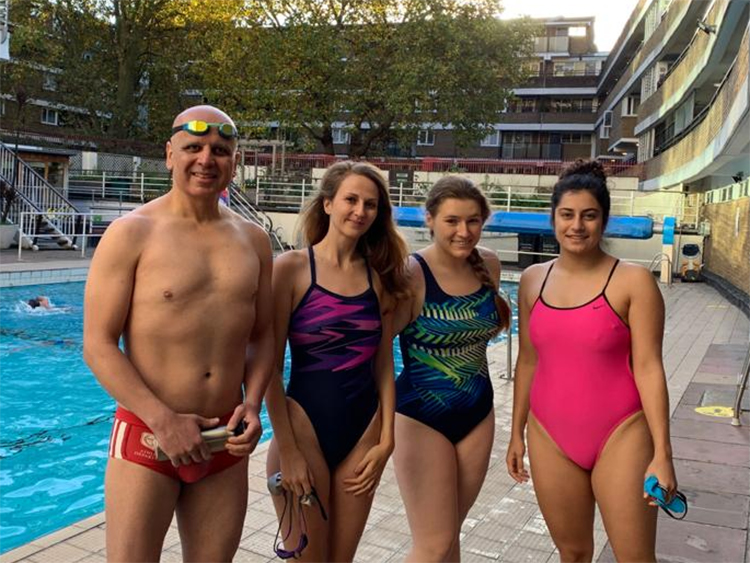 Thank you to everybody who supported us, who made donations for the charities and also to the lifeguard to let us slightly beyond our slot to finish our challenge! Your turn now, what's your next challenge?